Gold Coins: The Last Cheap Asset Class
By Dr. Steve Sjuggerud
Chris Weber never had to get a real job...
He turned $650 from his paper route into enough money to retire on – by the time he graduated from high school.
Did Chris make his fortune in stocks? Or real estate? No...
Chris actually did it in coins...
It sounds crazy today, but coin prices rose 348% from 1972 to 1974, and another 1,195% from 1976 to 1980 (according to the PCGS 3000 coin index).
Rare coin prices peaked in 1989. Today – more than 17 years later – rare coin prices are STILL down 63% from that peak. (And that includes the decent rise in prices since the price of gold has climbed.)
I think collectibles in general, and rare gold coins in particular, are extremely attractively priced right now. Look, I'm not your typical gold coin buyer… I'm not a gold bug… I'm not an end-of-the-world type of guy.
I simply see extraordinary value and quality. Right now, you can buy coins very close to their lowest premium to melt value in history. That's attractive.
My ideal investment is an asset that is cheap, hated, and in an uptrend. It's extremely hard to find all three in one investment. But we have it now in coins. Let me show you some charts that clarify the facts.
First off, you need to know that the coin market was revolutionized in the mid-1980s, with the introduction of PCGS, the Professional Coin Grading Service. PCGS authenticates, grades, and seals coins in a small plastic case. This simple innovation "democratized" the coin market, making it possible for amateurs to be certain that they're buying a great coin – not falling for a fake or a dealer's "generous guess" at the quality of a coin.
The introduction of PCGS caused coin prices to rise. The price of an MS-65 graded Saint Gaudens, probably the most popular coin with collectors, reached more than $3,500 a coin (and that's dealer cost!) back in the 1980s. Today, these coins go for about $1,400. I started recommending these in 2003, back when they sold for less than $900 per coin.
It may sound hard to believe, but buying right now is a better buy than at any time – including when my subscribers bought for less than $1,000. Let me show you what I mean...
I asked my friend Dana Samuelson to make me a chart showing the price of MS-65 Saints over the last five years versus the price of gold. Keep in mind, rare coins have been cheap over this entire period...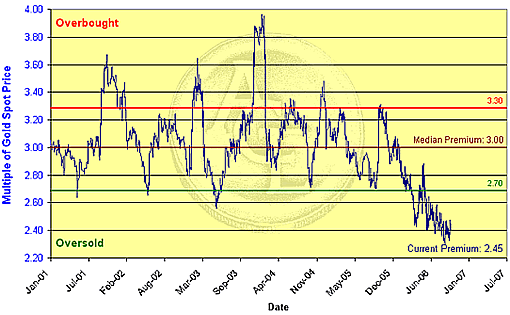 You can see that, right now, these great coins are at exceptionally low premiums to their meltdown value.
Five years from now, I think any of the premiums above will turn out to be cheap. But right now, gold coins are the best value I've seen since I've been writing about them. Fortunately for readers, the price of gold has gone up, so they've made good money on the coins I've recommended. But right now is a great entry point.
Dana Samuelson is one of my recommended coin dealers. He thinks like I do about coins… how much value am I getting for what I'm paying now?
To me, it's irrelevant whether it's a coin or real estate… how much value am I getting for my money?
The charts you see on this page are not available anywhere else. Dealers like to keep this type of information to themselves. But I've crunched the long-term numbers, and Dana has kindly shared the short-term numbers in the chart above.
If you have never bought rare gold coins before, now is definitely the time to consider them. I think hundreds of percent returns are likely, actually. Remember, from 1976 to 1980, coin prices rose by 1,195%.
I suggest you only deal with the dealers I recommend in True Wealth, such as Dana Samuelson's firm, American Gold Exchange (info@amergold.com, 800-613-9323).
Coin prices are down more than 50% since their 1989 highs. They're in an uptrend now. They're hated (nobody wants to hear about them at a cocktail party), and they're close to the best value they've ever been.
Time to buy.
Good investing,
Steve Sjuggerud
Editor, True Wealth
P.S. To learn more about the True Wealth, click here. And to read more about the secrets to investing in gold, click here.